Progress!
Last weekend I almost gave up on my dress. The first 4 rows of the main pattern repeat were just too confusing for me. I knit and frogged and knit and frogged them over and over, and I kept coming up with about 18 stitches too many on the fourth row.
Dave was at work all day Sunday. He realized that he had to jump in and help when he came home to find me crying into my mohair, wine and chocolate close at hand. He's not a knitter, but he is organized and logical, and he made me a large color- coded Excel chart of the pattern. Luckily, that helped me a whole bunch. (That, and realizing that when the pattern says "decrease 2" maybe decreasing by 1 just won't cut it. Maybe that's how one ends up with extra stitches. Crazier things have happened.)
So, this is what I have so far: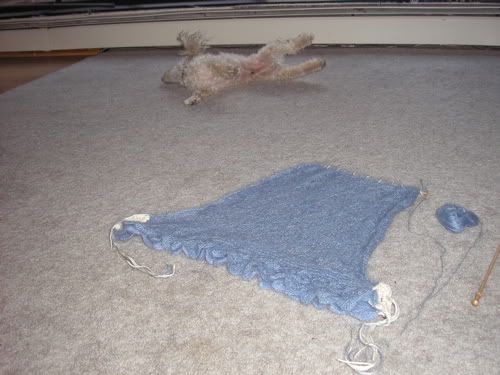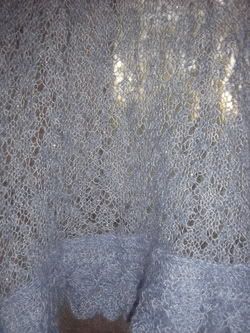 Don't worry- my dog Joey is not dying of a seizure in the top picture. He's just scratching his ears.
I am trying to have faith that the lace will look more like the pictures in the magazine when blocked; right now it just looks like a whole lotta crapola. Kinda nice crapola, but not fancy diamond shapes crapola.