Starstruck
So, last Thursday I went to the Porter Square Masonic Temple to hear Stephanie Pearl McPhee (aka the Yarn Harlot) speak. Probably anyone who is a knitter in blogland will understand that it was perfectly natural for me to call into work in order to see her. She is hilarious and amazing. The big grey office I work in probably wouldn't understand, so to their knowledge I had some bad egg salad on Wednesday night. Hey, Easter was the previous weekend, it's probable.
Stephanie was really funny, and a great speaker. Almost everyone in the audience was knitting. I had her sign a book, and had a bit of a brain meltdown when I got to talk to her in line. She's Canadian and asked me if my name was spelled SU Zed ANNE. Not Zee, Zed. Same letter, but it confused my poor brain. Being shy and starstruck I was feeling awkward and speechless anyway, and then not being able to spell my own name made me feel even worse! But hey, she was nice about it. And I talked to some nice people in line too. They invited me to a knitting group in Watertown. Unfortunately, this South Shore girl doesn't even know where that is.
(Actually I'm just bad with directions. I was late to the event because I walked in the exact opposite direction of Porter Square when I got off of the T. I backtracked almost all the way to the Harvard station!)
Anyway, while I was there I really decided that I should get into this whole knitting community thing. I've been knitting for about 2 1/2 years now, (thanks Stitch n' Bitch!) and I really don't know other knitters. Mostly this is my fault- I am shy and lack the balls to go out and find a knitting circle. Hell, I'm too shy to comment on other people's blogs! So this is my first step to make knitting friends. If anyone reads this, please say hello! And if you know of any good knitting groups around Boston (I'm in Weymouth, hi!) invite me and maybe I'll come say a mushmouthed hello.
And Finally, one of the best things about knitting blogs are the pictures. Can y'all guess what I'm making?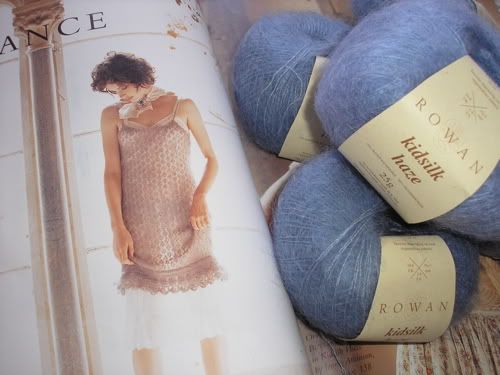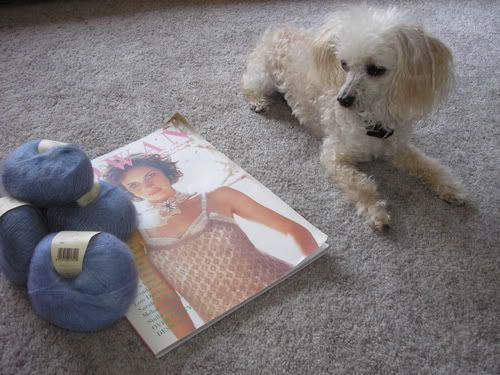 Of course you can. Details later as to why...